Keeper
CH Kestri's Keepsake of Kaylan, CD RA NA NAP NJP

OFA: BSD-2514E35T (Excellent); CERF: BSD-1198/2006-110; CHIC: 12738; Thyroid Normal; Seizure Free
AKC Reg: DL67021303; Whelped 12/12/96
Am. Can. CH U-CDX Lorjen Double Entendre' Am. UD (8 UDX legs), Can. CDX x Amethyst Nausicaa O'Chancery, CD

Page updated 08/06/2015
Here are some of Keeper's favorite photos. Click here to read about Keeper's litter of puppies, whelped May 6, 2001.

Click on any thumbnail to see a larger version.
Keeper in the backyard (left) and bringing Kathy her keys.
Keeper (left) & her dad, Tyler, play tug-o-war. At the beach (center), Keeper
can hardly sit still long enough for a photo! Keeper & Kathy play at the park (right). For even more photos of Keeper's dad, click here.
The photos above are the only ones that I have of Keeper's mother, Amethyst Nausicaa O'Chancery (Tika). Unfortunately, Tika's owner did not have enough time in her schedule to finish Tika's breed championship, herding or obedience titles. The photo at right is a photographer's proof that was given to me by the handler...I was never able to obtain a larger print (hence the VOID stamped across the photo).
A partial family portrait when the "kids" were still under a year of age (left). From left, Keeper's brothers, Tavi & Echo, dad Tyler & Keeper. Keeper & Echo rest after romping at the park (right).
Keeper learning how puppies are supposed to stack (left). Keeper "killing" the toy at 5 weeks of age (center). Keeper's on top of one of her littermates, at 4 weeks of age (right).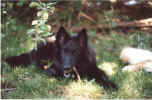 Keeper's a happy camper!
---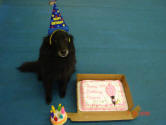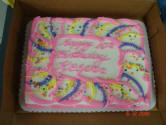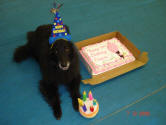 Keeper celebrated her 10th birthday a few days early so her friends at dog class could help her eat cake. She looks thoroughly disgusted with the hat, but despite the embarrassment she enjoyed the attention! HAPPY BIRTHDAY GRANDMA KEEPER!