Kaylan's Kruise the Heat
"Kruise (Yellow Boy)"
Page updated 08/06/2015 Click on any photo to see a larger image.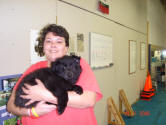 Kruise getting read to go home with Katrina Tustin.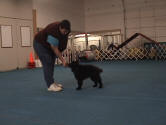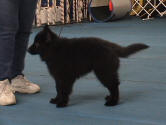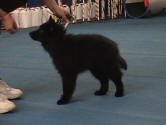 Kruise is learning to stack. Photos from December 1 (about 10-1/2 weeks of age). He has so much hair in these photos! Since they were taken he's had another bath & blow dry and doesn't look quite so wooly! Kruise is adorable, uppity and opinionated. I've nicknamed him "Mouth" because he has a big one, especially when he's in the crate or x-pen by himself and he knows other family members are out having fun!
---